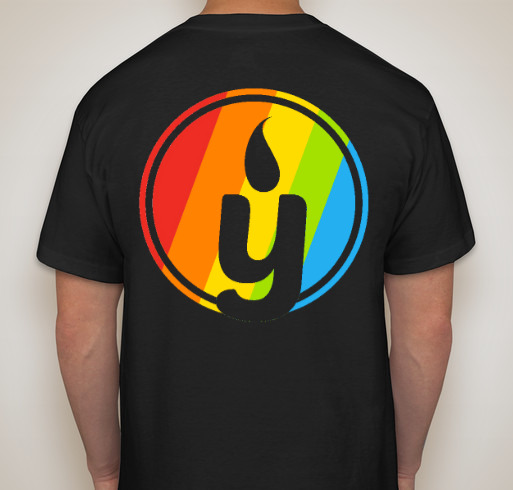 Support our fundraiser by purchasing this limited edition official YRUUP T-shirt! The proceeds from this sale will benefit the charity Rainbow Railroad on behalf of YRUU Pacific.
For a limited time only, YRUUP is offering rainbow merchandise to celebrate the approaching Pride month and the Rainbow Road charity. These shirts will only be available until May 30, so order your very own YRUUPRIDE t-shirt today! Once the shirt ordering closes on May 30, no more rainbow YRUUP shirts will be ever printed. Orders will ship in early June--just in time for pride month!
All proceeds from your purchase will be donated to the organization Rainbow Railroad--a charity that aids those fleeing persecution based on their gender and/or sexuality. Below is more information about the mission and impact of the Rainbow Railroad.
What is the Rainbow Railroad?
In countries all over the world, lesbian, gay, bisexual, trans, queer, and intersex (LGBTQI) people live in basic fear for their freedom, their safety and their lives. They often have nowhere to turn because their government and police not only tolerate but encourage this brutality. Rainbow Railroad exists to help these people get out of danger to somewhere safe.
"Rainbow Railroad exists to help these people get out of danger to somewhere safe. In the spirit of and with homage to the Underground Railroad, the mission of Rainbow Railroad is to help LGBTQI people as they seek safe haven from state-enabled violence, murder or persecution. Through funds collected by people like you, we're able to support, provide information, and help to arrange safe transportation for these LGBTQI people to somewhere in the world where they can live their lives in freedom.

"By donating to Rainbow Railroad, you help us provide information and support to LGBTQI individuals living in fear and isolation due to government and police supported persecution and violence. In many cases we are also able to provide funds to help individuals get to safe or safer countries for LGBTQI people. This can include funds to cover the cost of travel documents, airfare, and basic needs while individuals are in hiding or preparing to leave to a safer country."
Visit Rainbow Railroad's official website or purchase your very own YRUUPRIDE shirt today!